Autumn arrives, accompanied by lower temperatures, which means that the water in the pool is not warm enough to be able to enjoy it. For this reason, heat pumps have been designed, as the best way to keep the pool water at an ideal temperature to extend the swimming season.
Having a swimming pool is a considerable expense, so you have to make the most of it. Heat pumps require an initial investment, but they are the best way to make the pool and the pump itself pay for themselves, by bathing at a pleasant temperature when the ambient temperature starts to drop.
Choosing the right heat pump for your pool is very important. For this reason, the 3 different Gre heat pumps are analyzed below: Mini, Standard, and Inverter.
Mini heat pump
Mini heat pumps are designed for above-ground pools. Gre has 3 different models depending on the volume of water in the pool: 20m³, 30m³, and 40m³. This type of pump is very easy to install without the need to install a by-pass kit and can be used for any type of pool: wood, steel, composite, inflatable or tubular.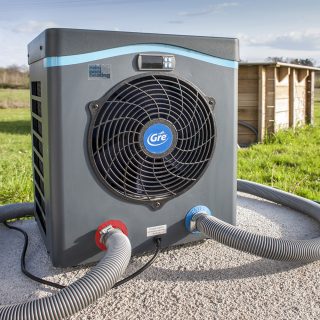 Standard heat pump
The Standard model is designed for both above-ground and in-ground pools thanks to the need to install a bypass kit. The main feature that differentiates it from the Mini pump is that the Standard has more power. It has a minimum and maximum working temperature of +12ºC to +42ºC.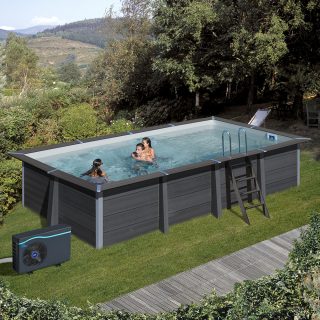 Inverter heat pump
For pools with a larger volume of water, there is the Inverter heat pump. As with the previous model, it is necessary to incorporate a bypass kit into the installation, thus allowing it to be installed in both above-ground and in-ground pools. In addition, this model is the one with the most power, allowing it to work from -5ºC to +43ºC.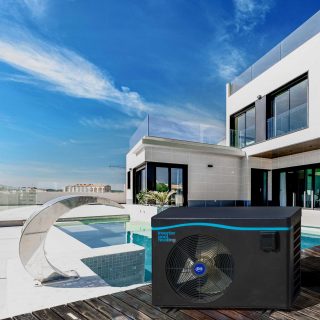 After choosing the pump that best suits the characteristics of the pool and its needs, it must be accompanied by a cover or blanket to help the water to maintain its temperature during the night or when it is not being used. Extend the swimming season!