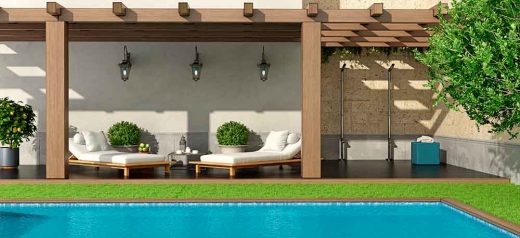 Time is running out, the days before summer's arrival are melting down and our minds can only think to those sunny moments of relaxation.
Pool is synonymous with summer, it's what we're dreaming of in these spring days.  There's an infinity of swimming pool types: in ground, wooden or stone-like walled pools, and so many more.  But, we need a little something more than just a pool to fully enjoy those moments of outdoor happiness.
Pool backyards are a luxury of their own, but if you're thinking about renovating it or transform your backyard, you should take a few aspects into account, some of which we'll talk in this article to help you create your personal oasis.
Various materials to place around your swimming pool
We can find different materials that improve our outdoor decor and give style to our backyard and swimming pool to create a much more spectacular environment.
The most common is to use stone for the pool's surroundings.  It's a robust and lasting material, that easily supports all the climatic changes.  It's important for the stone to have some roughness on it's top to not be slippery. For pools with a rustic look, rocks could be the perfect ally.
Another material that is used a lot is wood.  Wood is enjoyable and it brings in a quality factor and enhances the natural aspect of our backyard.  We must remember that wood is a noble material that requires some care, and even more then it's exposed to the elements, so it must be hard and resistant to the seasonal changes throughout the year.
The combination of those two elements, stone and wood, is perfect to decorate your backyard, and create an unbeatable style outside our homes.
Ceramic is another classical material in the design of backyards with pool, with an infinity of varieties, for all tastes and ideas.  This type of flooring is also very resistant and durable. They must be anti-slippery and with a low level of porosity however.
Grass is another wonderful option to go walk barefoot and feel the freshness under our feet.  Just like the wood, it does require regular maintenance and cleaning.
Finally, amongst the many choices we could discuss, another adequate material for the backyard is the brick, for its hardness and its durability with both water and sun.
We talked about different decorative materials, but the combination of them is usually a great success and help create the backyard of your dreams.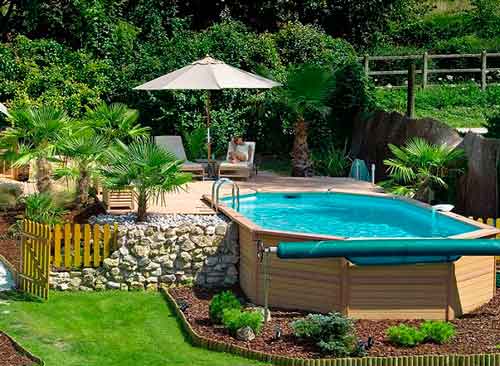 Pool enclosures
No matter what the size of the pool, we can create a spectacular outdoor space in your backyard following many styles and ideas.  
Another element you have to taken into account is the fencing of your swimming pool, either just by pure looks of for security, if there are children at home for example.
Aesthetically, glass is one of the most used, for its luminosity and the impression of space it creates.  Other interesting options to decorate your pool's surroundings are the enclosures and wooden fences.
For security purposes, we can also set protection barriers, following the same idea as glass, with a transparent-looking fabric that doesn't block the view of the pool.

Protection barriers for pools
Shade, secure spaces outside
Of course most of us like the summer and the warm days.  If you have a pool at home or want to have one, you have to consider one fundamental factor: the shade.
We must be aware of the risks to expose ourselves to the sun, so it's important to create spaces where we can rest, protecting ourselves from sun rays.
If in your backyard, you don't have trees, arbours, pergolas, awnings or umbrellas are good ideas.  There are different types of umbrellas, which we can also move easily from location to location. Pergolas however, because of their size, allow us to create a space outside the house where we can relax and enjoy the backyard. That exterior decoration could be complemented with furniture like chairs, tables, loungers and even a zone for a grill or a BBQ.
Lighting for pools and backyards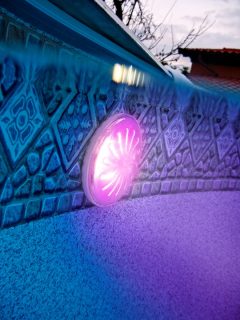 A good lighting in the pool and around it is essential, and it plays an important decorative role too.
You can't enjoy your pool during the day hours?  You like to enjoy the warm nights of the summer in your tranquillity of your backyard?  Don't worry, even past the sunset, you can enjoy those precious moments of relaxation with different lighting options available.
In addition to a good LED lighting system for pools, we can also mix in many different systems to light up your backyard, like spotlights, torches or beacons.  If you want to create a romantic atmosphere or more privacy, you can place a few candles around the pool, or even be more original and use floating candles.
Plants to decorate the pool area
We have talked of various factors we have to consider when decorating the pool area, but the list could be limitless.
But how can we not talk about plants in this article?  There are many varieties that can make the swimming area a more attractive place, with style and increase your privacy.
It's important to choose trees and plants carefully to be placed around the pool.  The first factor is to be practical and opt for evergreens, so you don't have pick up leaves all over.  We're talking about leaves, but they could be flowers of fruits.  We also have to consider the roots of the trees, they can grow and come to damage your pool.
As much as possible, you should  opt for plants and trees from the local area, so they adapt well to seasons.
Between the species we can mention are palm trees, bushes, citrus fruit trees, olive trees, climbing plants …
Overall, we want he plants and trees of our backyard to bring colour and life, without being a risk to our pool or its maintenance.  Our security is also important, and having most of our skin exposed, it's better to avoid plants with thorns (cactus, roses) or that can stain, and, why not, that are easy to maintain, we're in summer and what we want to do is enjoy our time.
Outdoors decorative elements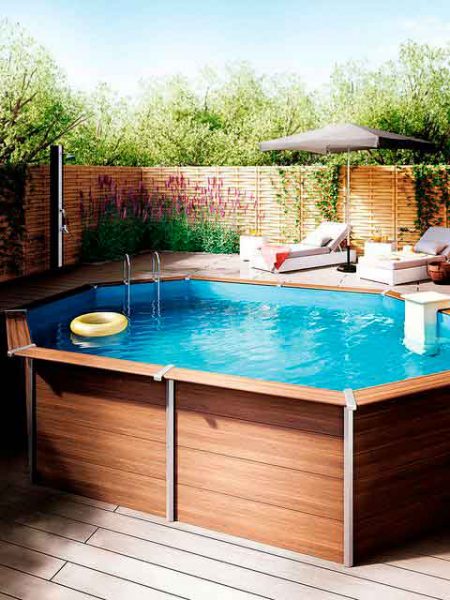 We can mention a few important elements regarding the decoration of the pool's area like the showers.  After a long warm day, nothing is more refreshing than taking a shower outside.  Like for the other elements, we have different types: of work, portable, and even with pallets …
Additional indispensable elements for our backyard with a pool are furniture like hammocks and loungers.  The perfect place to lay down under the sun, read a good book or watch over your kids.
A storage zone could also be interesting, to store up everything related to the swimming area, like towels, floating devices, products to clean the pool, soaps, chemical products, and more.
Finally, if you want to go further and create a paradise outside your home, you can include a waterfall or a fountain, next to which you could relax listening to the sound of the water falling down.
Follow us in our social networks to get more ideas and enjoy with the news and Gre products.