In Gre we have the purpose of creating and building swimming pools that can be suitable for all budgets, so today we are going to show you the best way to have a swimming pool in your garden.
First of all you should know that there are several options in the type of pool:
Building a swimming pool 

A Gre in-ground pool
Building a pool
A simple Google search on pool construction, will show that there are varied rates, but the average cost of building a pool is approximately 14,000 euros. This price includes work permits (obligatory), the treatment plant and excavation work. We emphasise that this is an indicative price that may vary from one area to another.
A Gre in-ground Atolón pool
Gre's atolón swimming pools are highly durable steel pools, designed and manufactured to be able to be in-ground and to endure in perfect conditions just like an above-ground swimming pool.
The Gre in-ground pools are of between 5 to 8 meters long, 3 to 4 meters wide and 120 to 150 cm high. It all depends on the model of pool selected.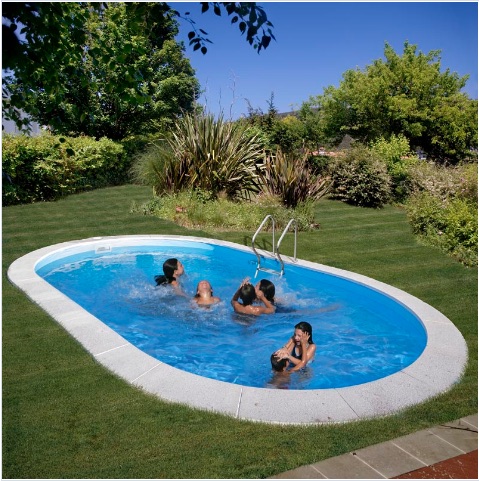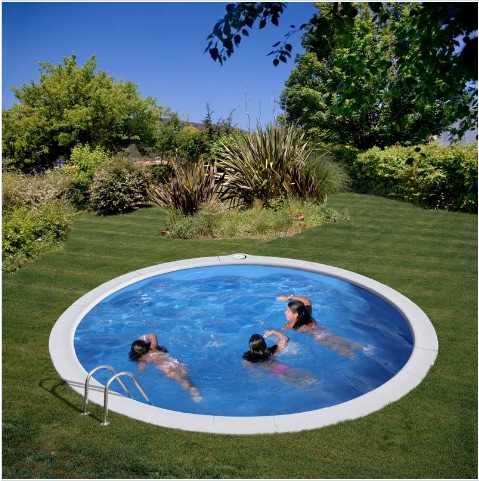 How to make an in-ground and removable pool?
For the construction of an in-ground pool with a removable Gre pool, you will have to make an excavation large enough to fit the pool you have chosen plus the filtration equipment which will also be semi-buried. This space will be the size of the pool + 1 meter on each side of the pool. 
Secondly, you need a concrete slab to create a base firm enough to support the weight of the pool. It is not necessary to make all the walls of concrete; however, depending on the pool model (oval or round) you will have to make some small brick and concrete walls as support. You can know more about the construction of these small walls in the instructions attached to the pool.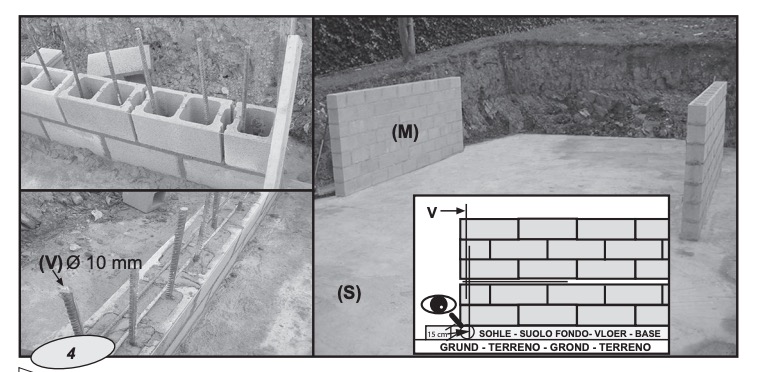 And finally, install the pool according to the instructions. All the instruction manuals for all Gre in-ground swimming pool models are on our website so that all the steps necessary to build an in-ground swimming pool can be studied in advance.
In this video from our Youtube channel you will be able to see more easily all the steps to build an in-ground and removable pool.
What do I put on the pool floor?
To install an in-ground swimming pool at home does not have to be expensive. Gre's in-ground pools include all the materials and accessories needed to enjoy the pool and water in complete safety. Therefore, they include:
Blue PVC liner with anti-UV treatment

Sand treatment plant. It includes flint sand. 

3-step stainless steel easy-access ladder

Polyethylene protective blanket

Structure of the pre-painted sheet metal

Wide mouth skimmer set

Connection tubes and fittings
Moreover, Gre offers a 4-year warranty on the metal structure.
And best of all, once the land is prepared, between 2-3 people can install the pool in less than 24 hours. Nothing could be simpler!
How to connect the pool cleaner to a removable pool?
If, in addition to the flint-sand cleaner included in the pool, you want to connect a cleaner to improve the cleaning of the pool and water, you should know that there are cleaners that work directly connected to the suction valve or the skimmer of the pool (manual suction cleaner), others that work with the pool's own filtration system, which are connected to the suction point of the purifier and need a minimum power of ¾ cv to work (electric hydraulic vacuum cleaners), and those that have their own filtration system (electric and battery cleaners).
Any one of them will work. This would depend more on the size of the pool.
How to clean the Atolón pool?
The cleaning process for an Atolón in-ground pool is the same as for any other pool and the products for pool water maintenance are also the same. 
In our blog you can find many more informative articles about the proper maintenance and cleaning of swimming pools, as well as their correct installation.
Do not forget that in our YouTube channel you can also find more explanatory videos on how to build and install the Gre pools.
Gre, pool experts