Zodiac ® is a specialist swimming pool equipment brand with over 120 years of experience. Here is the low down on Zodiac's pool cleaning robots.
The company merged with Fluidra in 2018 and has an outstanding reputation as it marketed the first inflatable boat and went on to position itself as a leader in designing manufacturing and marketing innovative swimming pool equipment.
In this post, we will go through the range of zodiac pool cleaning robots so you can keep your water clean and crystal clear with minimum fuss and hassle. Read carefully and keep up to date!
What are Zodiac Pool Cleaners?
Electric pool cleaners clean your pool easily, automatically and effectively with their intelligent technology.
At GRE, we have a range of pool cleaning robots that adapt to all types of pools and clean, the bottom, walls and water surface. These robots use innovative technology to collect large debris such as leaves and finer particles such as sand.
Zodiac pool cleaning robots are without a doubt the best way to clean your pool.
What should I consider when choosing a robot cleaner?
Ask yourself some of these questions before deciding which cleaner is right for you: o What is the size, shape, depth and design of my pool?
o What type of lining does my pool have on the bottom and walls? Does it have steps, submerged ladders or accessories embedded in the bowl?
If you have not started to build your pool yet, you must remember to include connections for future pool cleaner installations in the general plan and in the technical diagram to avoid the channelling requirements of some models.
Zodiac pool robots
We at GRE offer you different models of pool cleaning robots including the Zodiac® brand which goes hand-in-hand with cutting-edge, high-quality style. Here are a few models with their main features.
This robot is ideal for the pools listed below:
Shapes: rectangular, oval, free style.

Bottoms: flat, smooth slope, compound slope, diamond tip.

Coverings: gresite (we recommend replacing the original wheels with the suction cup wheels included in the pack so that the cleaner sticks to the surface), liner, polyester hull, reinforced PVC, painted concrete.

Pool size: up to 12 x 6 m.
This robot is ideal for the same type of pools as the previous model. In addition, both models feature ultra-powerful, constant cyclonic vacuum technology to clean the pool bottom fast and thoroughly.
Conventional electric cleaners tend to clog the filter and lose suction capacity. That is why this technology is completely efficient.
It is simple to use: a whirlwind keeps the aspirated remains in suspension in a permanent cyclonic movement. The eddy power prevents fine debris from sticking to the filter walls and stops it from accumulating on the filter walls.
The main difference between the GV3420 and the GV3520 is that the second has a kinetic remote control.
This robot is perfect for pools with the following features:
Shapes: rectangular, oval, free style.

Bottoms: flat, smooth slope, compound slope.

Coatings: liner, reinforced PVC, painted concrete, polyester and stoneware hull.

Pool size: up to 8×4 m.
This robot is ideal for the same pools as the GT2120 but can also suit sizes up to 9×4 m.
Zodiac Tornax pool cleaners stand out for being one of the lightest on the market with half the average weight as other cleaners in its category.
You can compare the 4 models in the following table: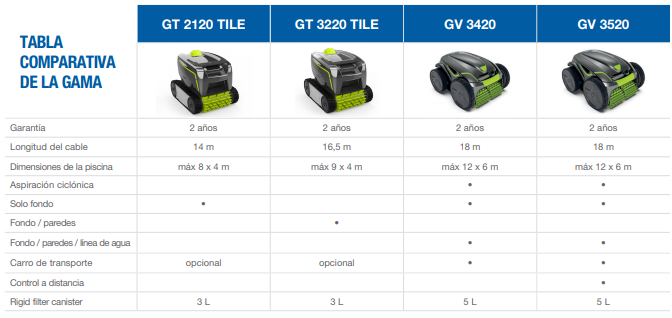 * Table exported from this PDF.
Find everything you need with GRE to go swimming whenever you like!